I've been feeling this weird 'manic' energy lately. It's funny, Bubber was mentioning feeling it and I realized OMG ME TOO. A strange power and creativity and diminished sense of risk that we jokingly attribute to our famous
ancestor on the Italian side
.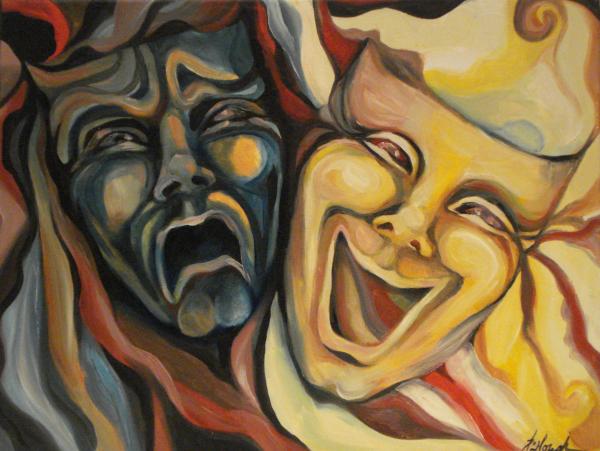 So yeah. Manic/creative energy. I'm channeling it into starting an Etsy business. To begin with at least, it will be primarily a card and wall print store. Mediums:
Watercolor
Pen and ink (and colored pencil)
Block printing
Paper collage
I'll make stuff with those mediums (I've got some pieces I can maybe use already, or at least are examples of what I will do), create high-quality copies/prints of the original work and sell them at a pretty reasonable price.
Thank you cards (pack of 6) - $10-12
Greeting/wedding/birthday card - $2.00-$3.75
Prints for nursery, bathroom, kids rooms, other places - $5-25 depending on size and quality/detail of the piece
Also I'll probably sell originals at a bit higher price, maybe like $20-120 or something (again depending on size and quality/detail of the piece). So that's the idea for now.
Tell me: would you pay that much for something handmade? Also, would you be interested in any other types of products?
Some watercolors. I'd probably sell this kind of thing as prints. Maybe it could work as a card too.
And of course
butterflies
I posted before and that kind of thing. Next up we have papercraft cards. They are pretty, but I'd either have to find some way to easily mass produce them or do color prints of them - but that would lose some of the texture, so this one's still up in the air.
Some pencil and pen drawings. Cards of these kinds of drawings would probably be cheaper.
Ink block printing I sent as Christmas cards last year. If I could do a really nice one with no mess-ups I'd make color copies of it, but otherwise I could sell prints themselves for slightly more.
Of course I'd take a bit more professional photos too. And I ordered a small paper cutter for straight lines - heheh.